View cart
"Primary Directions Without Tears" has been added to your cart.
Ascensional Times: Theory and Practice
$14.99
This lecture explains the meaning and uses of ascensional times (measuring how fast the signs rise), from their philosophical meaning to their use in elections, map-making and climes, distributions (a kind of primary direction), judging sect in a chart, personality types across the world, symbolic predictions with triplicity lords of the sect light, and calculating solar return Ascendants.The download includes PDF slides and a handout. Length 1:13:31, 48MB.
Related Products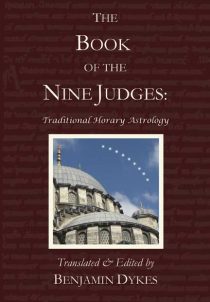 The Book of the Nine Judges
The great medieval compendium of Persian and Arabic masters
The Book of the Nine Judges is the largest traditional compilation of horary astrology, drawn from nine Persian and Arabic astrologers. Translated from Arabic sources chiefly by the 12th-Century Latin translator Hugo of Santalla, it achieved legendary status but has never before been translated into any modern language. It includes material by Masha'allah, 'Umar al-Tabari, Abu Ma'shar, Sahl bin Bishr, al-Kindi, Abu 'Ali al-Khayyat, "Dorotheus," "Aristotle," and Jirjis. Click here for a PDF excerpt.
$

36.00
Buy on Amazon