View cart
"AFA 2011 Traditional Astrology Conference" has been added to your cart.
Ascensional Times: Theory and Practice
$14.99
This lecture explains the meaning and uses of ascensional times (measuring how fast the signs rise), from their philosophical meaning to their use in elections, map-making and climes, distributions (a kind of primary direction), judging sect in a chart, personality types across the world, symbolic predictions with triplicity lords of the sect light, and calculating solar return Ascendants.The download includes PDF slides and a handout. Length 1:13:31, 48MB.
Related Products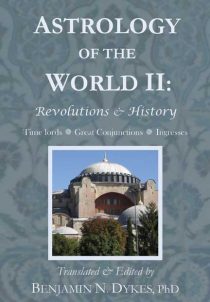 Astrology of the World II: Revolutions & History
Ingresses and conjunctional theory from the Persians
Astrology of the World II: Revolutions & History is the second in a trilogy of writings from medieval astrologers, focusing on astrological theories of history, mundane time lords and predictive techniques, Saturn-Jupiter conjunctions, and annual ingresses. Many texts have been translated directly from Arabic, and authors include Masha'allah, Abu Ma'shar, Sahl, 'Umar al-Tabari and Kankah, al-Qabisi, and al-Rijal (Haly Abenragel).
$

35.00
Buy on Amazon