Ascensional Times: Theory and Practice
$14.99
This lecture explains the meaning and uses of ascensional times (measuring how fast the signs rise), from their philosophical meaning to their use in elections, map-making and climes, distributions (a kind of primary direction), judging sect in a chart, personality types across the world, symbolic predictions with triplicity lords of the sect light, and calculating solar return Ascendants.The download includes PDF slides and a handout. Length 1:13:31, 48MB.
Related Products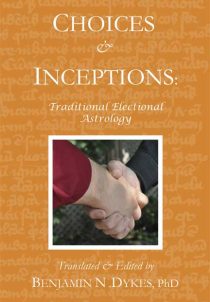 Choices & Inceptions: Traditional Electional Astrology
Medieval electional astrology in the tradition of Dorotheus
Choices & Inceptions presents numerous works on choosing auspicious times for actions, drawn from the most well-known medieval Persian and Arabic-language authors and compilers: al-Kindi, Sahl bin Bishr, Bethen, al-'Imrani (Haly Embrany), and al-Rijal (Haly Abenragel). It is the largest collection of traditional electional texts available in modern languages.
$

24.95
Buy on Amazon