Ascensional Times: Theory and Practice
$14.99
This lecture explains the meaning and uses of ascensional times (measuring how fast the signs rise), from their philosophical meaning to their use in elections, map-making and climes, distributions (a kind of primary direction), judging sect in a chart, personality types across the world, symbolic predictions with triplicity lords of the sect light, and calculating solar return Ascendants.The download includes PDF slides and a handout. Length 1:13:31, 48MB.
Related Products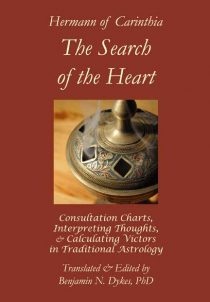 Hermann of Carinthia: The Search of the Heart
"Every question of astronomy… is either in thought or in speech."
In the 1140s AD, Hermann of Carinthia assembled instructions from medieval Arabic-speaking authorities on interpreting the unstated thoughts of clients (now called "consultation charts"), often using a "victor" or mubtazz or almuten for topics or the chart. Hermann also offered his own reflections on the proper balancing of dignities, house rank, and planetary strength.
$

24.95
Buy on Amazon