View cart
"Introduction to Traditional Astrology" has been added to your cart.
FAA 2010: Relationships and sexuality
$14.99
This lecture introduces traditional techniques for delineating sexuality and relationships in the chart, from the 7th house to Venus, to predictive techniques using the Lot of Marriage. Length 1:15:46, 35MB.
Related Products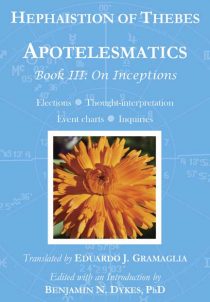 Apotelesmatics Book III: On Inceptions
Hephaistion of Thebes' Apotelesmatics (5th Century AD) is an important record of ancient doctrines on general principles, natal, and electional astrology, largely drawn from the work of Ptolemy and Dorotheus.
$

17.99
Buy on Amazon